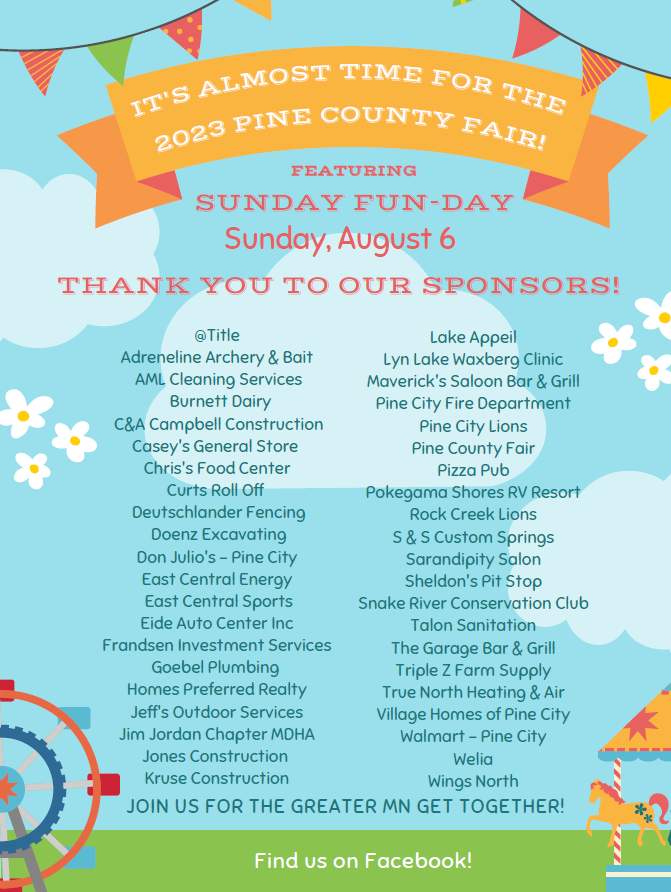 Sunday Funday 2023
Sunday, August 6 – starting at noon
We are excited to be planning another Sunday Funday Event for the kids of Pine County on Aug 6th from 12-3pm at the Pine County Fair. Games, shows, and events start at noon with the drawings for the raffle winners at 2:30pm. Don't forget to pick up a free bag with sponsor donated items and remember to sign up anytime during the fair at the fair office for a chance to win our grand prize, an ATV.
Highlights:
Expanded goat and small animal section with rest areas
Fire Fighters hands on demonstration
Fishing for Life trout pond and fish cleaning demonstrations
Live music
Yo-yo man and magician
Pedal Pull
Money Scramble
Power Wheels Derby
Cookie Baking Contest
and much, much more
---
Sunday Funday Schedule
12-2pm: Sign up for all raffles
12-3pm: Trout Pond Fishing
12pm: Money Scramble
12pm: Junior Cookie Baking Contest (Outside Fair Office)
Rules: For ages 6-18 years old.  Half dozen homemade cookies, with the recipe brought to the fair office between 11am-12pm. Winners will be announced from band shell between 2-3pm.
12pm: Power Wheels Derby- cars will be available for kids to use
12pm: Fair Hair- while supplies last
12pm: Tattoos – while supplies last
12pm: Snack from the Welia Crunch Crew- while supplies last
12-2pm: BB Gun and Bow & Arrow Games
12-2pm: Sucker Pull for Fair Treats- while supplies last
12-2pm: Baby Animal Petting Zoo
12-3pm: Dazzling Dave the Yo-yo Man
12-2pm: Roger Wells Magician/Comedian
12-3pm Dragon Wagon
12:30: Dazzling Dave the Yo-yo Man Show (bandshell)
12:30: Pedal Pull
1pm: Roger Wells Magician/Comedian Show (bandshell)
2pm: Fairly Feud Show
12pm-3pm: Music with Eddy and Dave (bandshell)
2:30pm: Announce raffle winners and announcing of the Junior Cookie Baking Contest winners (bandshell)
Grand Prize drawing for ATV with helmet (bandshell)
***Please pick up all prizes at the Fair Office by 4pm***
---